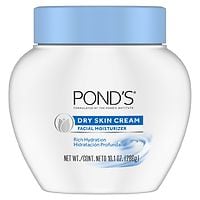 This post is brought to you by Pond's dry skin cream. Pond's keeps my 28 year old face looking 18. Pond's is the reason a boy who is still in High School walks over to the library during his lunch break to ask me out. Pond's skin cream is the reason this comic strip is so true and so funny to me.
Pond's is also the reason I feel okay about getting a horrible sun burn on Saturday that has turned into dry flaking skin and the whole left side of my mouth and chin (yes I said and chin) turning into one big fever blister. Mom and Lorraine, if you were wondering, it's starting to heal and feel much better now, even though it's still really gross to look at. I'm excited for the next 5 days to go by. Thanks to Pond's (and a few cold sore products) I'm going to make it.

P.S. there will be no pictures posted of my unfortunate looking face, so Don't even think about asking, Mary.