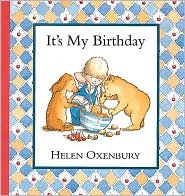 Look what I just found. I love this book. I love all of Helen Oxenbury's characters, but I especially love these characters. And I love birthdays! If I had to pick a favorite character in this book, it would have to be the little bear.
This is a great book for repetition! "It's my birthday and I'm going to make a cake." is repeated on almost every page.
You should definitely look for this book at the library.
It's My Birthday by Helen Oxenbury